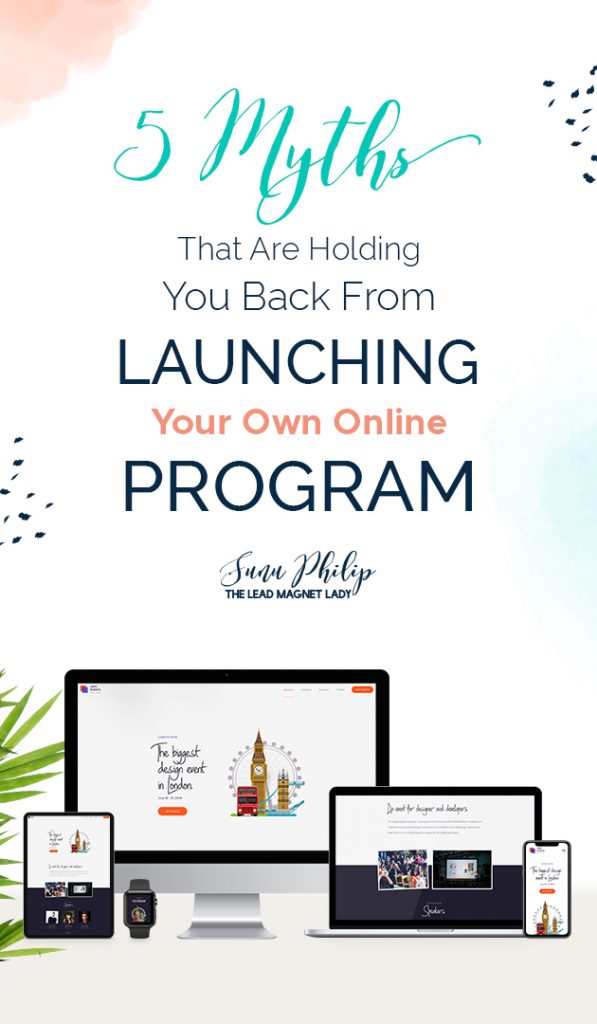 Have you tried creating your own course/program from scratch and launching it online?
Well, I have.
I can't say it was all sunshine and rainbows but it also wasn't as bad as I had imagined it to be.
I initially struggled with some negative thoughts that derailed my progress and held me back. But once I worked on my mindset, I was able to move forward and get it done.
Now, I can share from my personal experience that… Yes, you can create and sell an online course with ease!
But first, let's dispel a few myths that might be stopping you from creating and launching your online course or program.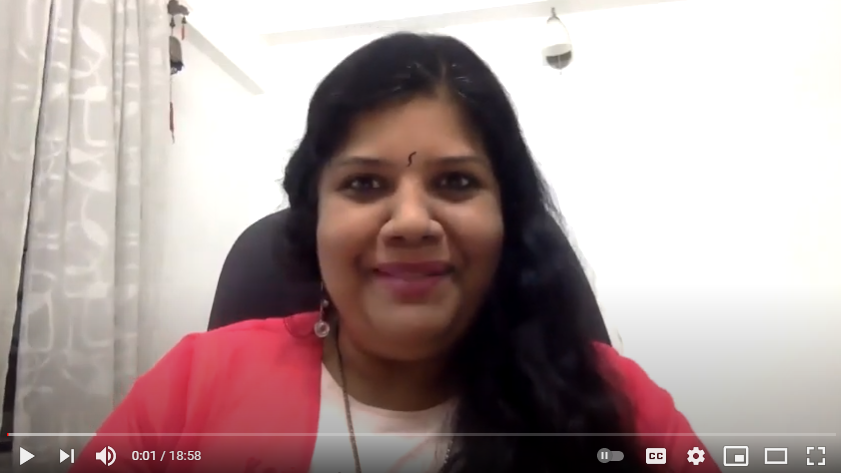 Myth #1: The process is overwhelming
One of the first thoughts that pop into your head when you start thinking of creating your online course is…
"Oh my God, how am I going to do this?! "
"There is so much to do and I am only one person. How can I create this and set it up? There's too much technology involved".
These thoughts might hold you back, things start feeling overwhelming and you might stop doing anything at all.
I have seen this happen again and again. I've done it myself and I see my clients do it.
But the thing is, it doesn't have to be overcomplicated.
You can start with just Zoom. You can put your offer out there with a payment button/link from Paypal or Stripe. You could even allow payments via bank transfer if your target audience is local.
Then you can do the coaching over Zoom, record the sessions, and email it to participants. You can make use of Facebook groups too to offer participants a community and live training.
I did a training back in April 2020 on 'How to plan, create, and launch your program in less than 14 days'. I will share it with you when the training is up again – it would be a great resource if you are feeling stuck and don't know where to start.
The process doesn't have to be overwhelming.
You can take it one step at a time, and go with the easiest options available.
For additional help, you can also visit relevant Facebook groups. There are some great communities where you can ask for help and feedback, and people might share their experiences with you. You can also visit my Facebook group, and post your questions there.
The main thing to remember is: get out of your comfort zone, ask questions, ask for help, and start doing it.
Don't put it away because it's not very complicated.
Myth #2: I am not an expert
This is a thought caused by Imposter Syndrome. It makes you think, "I'm not an expert, who am I trying to teach"?
The thing is… if you have a life experience or a career experience, or you have knowledge of certain things, you are enough. You just have to stay one step ahead of your ideal client, you don't have to figure it all out until the end.
I got this idea from one of my mentors who said you don't have to be an expert, you can be a contributor.
When you think of yourself as a contributor, you are supporting each other, you are contributing to the common cause. You are not competing with each other.
This will nullify your thinking that you are not worthy of doing anything, or that you don't have what it takes. You are just contributing your experience to a particular cause or purpose.
Never think that you are not capable or you don't have it.
Start with what you have and as you grow, you learn. You can even take certifications if required.
We all start from somewhere, and we grow by learning and applying our knowledge. Along the way, you will get more skills, more experience, and more clients.
Myth #3: I have no audience; how can I create a course and sell it?
You might be worried that you just started and you don't have an audience to create an online course for.
The thing is, there might be some people wanting to walk with you. You might already be connected to them – friends or colleagues who might need the support that you currently offer.
They might not be aware of your offering, so when you put up an offer and post it on social media, they might just see it and buy from you.
So, I recommend that you plan out your online course and decide what to include in it.
Then, let people know you're releasing this online course and gauge their interest. If you're not getting a good response, you can tweak the content and put up something else.
When you see a positive response, you can bank on that audience and build up your client base.
That's how I started this Lead Magnet journey!
When I began, I simply put out a post asking whether it would be worthwhile to proceed. I asked if people would be interested in buying my lead magnet specific service. I started getting clients from that day onward and I am still working with them.
So when you start, you have to start asking questions like, "Is this something people might be interested in?"
Start working on a social media post that outlines the idea for your course.
You can mention what you'll cover through it and what outcomes participants will get out of it. List them out and see what the response is like.
You don't need to have an audience right now, you can just start from scratch.
And you don't need to have a lead magnet to start either. First, get started on an online course and a really solid offer, and then you can have a lead magnet that attracts people to your offer.
Myth #4: There are so many people selling the same kind of online course
Another thing that's holding you back from creating an online course is the thought that there are so many people out there launching similar courses.
"How am I going to stand out? How will I get people to sign up when there are so many competitors?"
If there is good competition, then it means the market is active and people are interested. So there is potential in what you are offering.
Take it as a positive indication that there are many courses because it means the idea is already validated and people are selling it.
You just need to show up as yourself and find a unique way to present your online course.
Make it completely yours by bringing in your story and your experience.
There are lots of life coaches and business coaches, and yet new coaches are coming up every day. This means that not everyone will connect with you, but some people will.
It is your energy that's connecting them to you. So, you are attracting your ideal clients, that's the most important thing.
Don't worry about the competition, because people will be interested, and they will buy from you.
There are buyers.
Just make the course completely yours, make it unique, bring your perspective and version and do it your way. That is how you can stand out and have the positioning that you crave.
Myth #5: This might take too much time
People hold back thinking they don't have any time for this because they have so much more to do. The thing is, we are all busy, but you can make time for something if it is a priority for you.
Allot a couple of hours a day for this online course creation process and then work on it. The important thing is getting the course structure mapped out, and getting people in.
Promotion is a big aspect. It is not just the course's creation, you have to focus on the promotion part. You have to get people signed up, so you have to put up offers like an early bird offer or launch offer.
You don't need to have the entire course set up to promote it.
You can create the course after people sign up, you can do it bit by bit.
Bonus Tip #1: It doesn't have to be perfect
You might think that your course has to be all perfect and good before you put it out there. But it doesn't have to include all the bells and whistles. You don't have to dazzle your audience with what you did.
If you attempt that, you might go on creating it forever, tweaking it, perfecting it! I am telling you this from my experience.
What people need is the value that you provide, the value of what you are teaching.
Don't hold yourself back with this perfectionist tendency. Do what you can, put it up, and then you can tweak it with the help of professionals.
You can prioritize your time and get on with it. You can later hire people to support you in the areas where you are struggling. You can just focus on your strengths for now, and at the next step, you can bring in more people.
Bonus Tip #2: Don't worry about the investment
You might be worried that creating an online course might take money. It might take a big investment if you want all those bells and whistles. But you can do it for free.
You can do it with a free Zoom account, a Facebook group, and a Paypal account. You can use Google Docs to host your documents, record the videos, and put them on Youtube, etc. There are so many free resources out there.
It might not be the perfect scenario. But you are just starting out and your ideal clients will understand that.
You have to start somewhere, so start with what you have. Just step out of the comfort zone and start taking action, one step at a time.
Get started with ease and fun, and the rest will follow. Take the skills and experience that you have, the passion for what you have to do, and put it out there. People need you and your story needs to be told.
Use your God-given gifts for others' benefit; that's how you get to grow your business.
Share your story with an online course, and don't worry about competition.
If you want to know more about this topic or have questions related to setting up an online course, you can connect with me through my free Facebook group, the Lead Magnet Lounge, where I share more about lead magnets and launches.